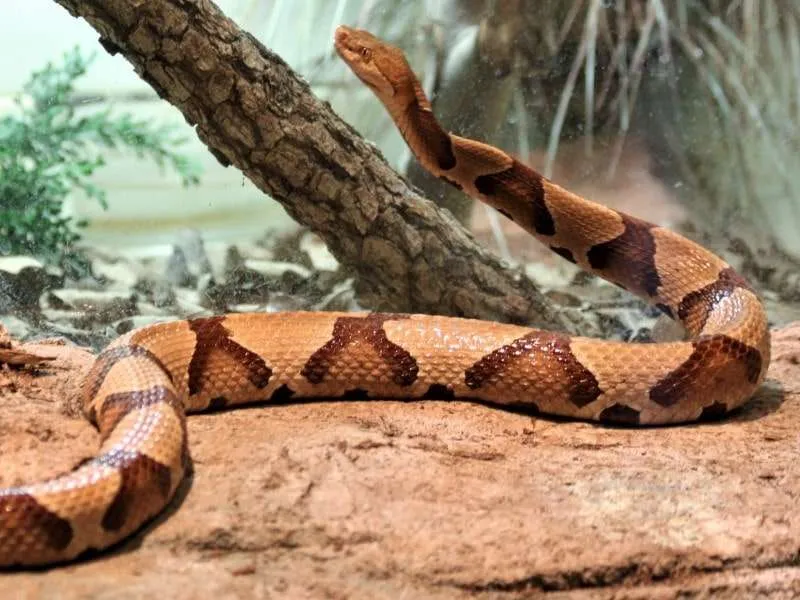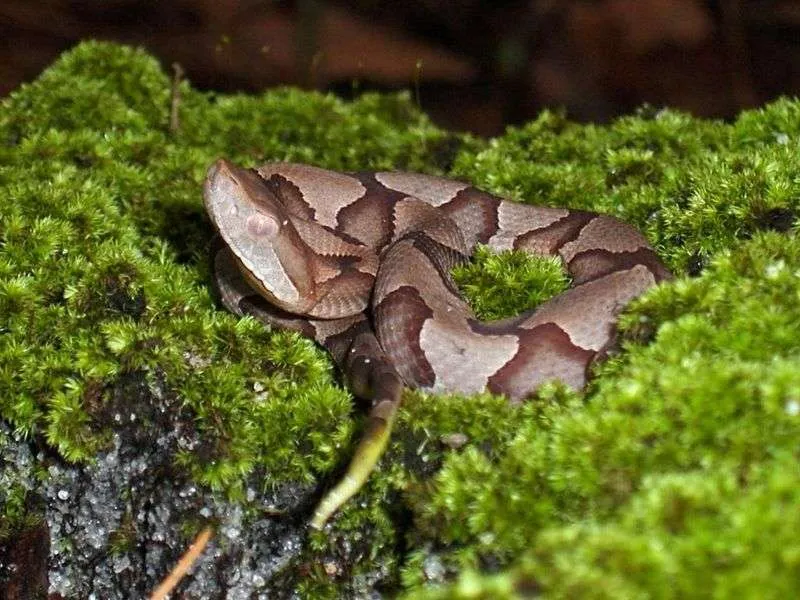 Before I start, I wanted to share a few pictures of what copperheads look like in case you needed to see what a copperhead looks like quickly.
After all, if you are searching for what copperheads look like, then you are probably trying to figure out if you just encountered a copperhead.
I get it! I hope the pictures of the copperheads help!
Now that I've really helped all the frantic people decide if they just saw a copperhead, continue reading to learn all about copperheads.
What does a copperhead look like?
Copperheads are medium-size North American snakes that have light-brown copper bases with darker brown hourglass-shaped bands around their bodies. Copperheads average between 2 to 3 feet in length.
The copperhead snake gets its name from the reddish-brown, copper color on the top of its head.
Females tend to be longer than males, but male copperheads have longer tails.
What do copperhead babies look like?
Juvenile and baby copperheads have lighter shades of brown on their bodies as compared to the body of the adult copperhead
Younger copperheads will also have bright yellow tips on their tail. They use this bright tip to attract frogs, lizards, and small rodents by camouflaging their bodies in leaves with only their yellow tip showing.
The yellow tip gives the appearance of a small worm or caterpillar that draws prey in close enough for the copperhead to strike.
Where do copperheads live in the wild?
Copperheads are one of the most common venomous snakes encountered by humans in the Southeastern U.S.
Here is a list of the sub-species of copperheads and which states you are likely to find them in:
Broad-Banded Copperhead – Oklahoma, Kansas, and Texas
Osage Copperhead – Kansas, Missouri, and Nebraska
Northern Copperhead – Alabama, Georgia, Illinois, Massachusetts, Mississippi, and the Appalachian Mountains
Southern Copperhead – Florida, Illinois, Mississippi, Oklahoma, South Carolina, Texas, and the Gulf of Mexico
Trans-Pecos Copperhead (Western Copperhead) – Western part of Texas
Copperheads like to live in disturbed areas. Most snakes spend their day covered and hiding from predators, even venomous snakes.
The copperhead's colors blend in well with much of its surroundings, so you may have been around one before and didn't even realize it. Yikes!
You might find a copperhead in any of the following areas (nature and domestic):
inside a pile of leaves
in a tree
under a rock
in or under old rotting wood
inside a pile of mulch or brush
under any debris pile
near marshes, creeks, rivers, and lakes
inside logs
inside stone walls
inside sawdust
inside caves
inside stumps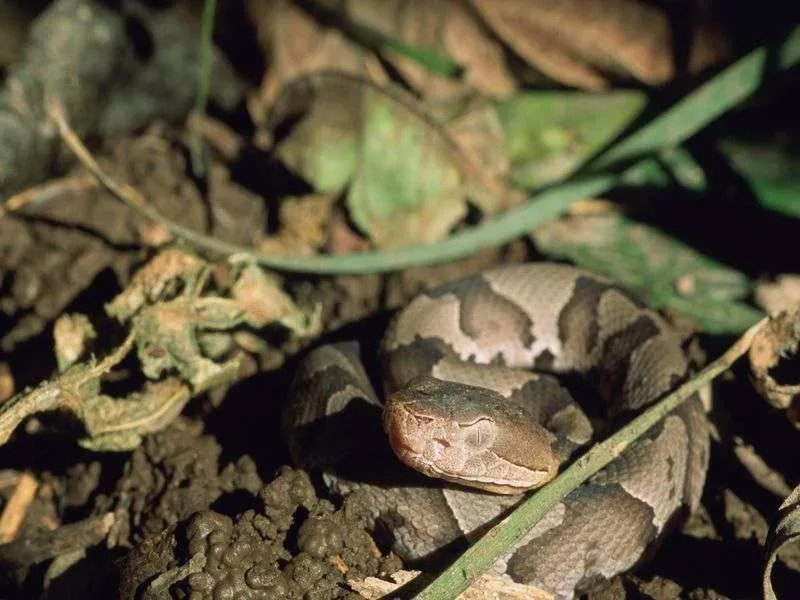 What time of day or night are copperheads most active?
Copperheads aren't that active during the day if they live in a hot environment because in hot environments they are hiding from predators and staying out of the sun's rays.
Copperheads love a warm, humid night after it rains and will be very active during this time.
Most snakes are more active during the morning hours in spring and summer when the sun is just coming up and warming the ground.
The reason for this is because the early morning hours aren't too hot for them to be active and move around.
What time of year are copperheads active?
During the spring and fall, copperheads are most active during the day in the early morning hours.
During the summer, they become more active at night when the temperature starts dropping.
The months that you are least likely to see a copperhead are October through March. During these months, the copperhead is in a brumation period.
.In the winter, copperheads are in brumation in a communal den with other copperheads, which makes up for most of their social activity. Copperheads are semi-social snakes, but hunt alone and are more solitary when they aren't in brumation during the winter.
Brumation is similar to hibernation, but copperheads don't go into that deep sleep most animals do during hibernation. Copperheads just try to stop moving as much as possible to conserve energy and slow their metabolism.
Can a copperhead bite kill you?
A copperhead's bite is serious but it isn't likely to kill you as fatalities from copperhead bites are rare.
Copperheads have hemotoxic venom. A bite from a copperhead will result in temporary tissue damage in the area surrounding the bite but rarely results in death.
People that are more vulnerable to a copperhead's bite are the elderly, young kids and babies, and anyone with immunodeficiency issues.
What do copperheads eat?
Here are some of the common meals for copperheads:
certain insects (mainly cicadas),
frogs
lizards
small rodents
small snakes
small birds
Copperheads are ambush predators and swallow their meal whole. With smaller prey, the copperhead will hold the prey in its mouth after it bites them.
With larger prey, the copperhead will bite the larger prey and track down the prey after the venom starts working.
How big do copperheads get?
Copperheads grow to a length between 2 to 3 feet with the female copperhead growing longer than the male. Although females are longer than males, male copperhead snakes have longer tails than females.
Juvenile copperheads have an average length between 7 to 10 inches and have bright yellow tails for attracting prey easily.
How far can a copperhead strike?
Most snakes can strike from a distance of about 1/3 to 1/2 of their body length. Since most copperheads grow to a length between 2 and 3 feet, their striking distance is around 1 to 1 & 1/2 feet.
Copperheads are not aggressive snakes and will only bite when they feel threatened or frightened.
Will a copperhead chase you?
Copperheads are not likely to chase you. They rely on camouflage to stay hidden and don't retreat when they are encountered like some other snakes do, but they will not come chasing after you.
Some snakes may run when startled instead of standing their ground, but it is more likely that you startled the snake and it is trying to get away rather than trying to chase you.
If both you and the snake get startled by each other's presence and decide flight over fight, it just may happen that both you and the snake try to get away in the same direction, giving the appearance that the snake is chasing you when it really isn't.
How do you get rid of copperheads in your yard?
Cicada bugs and small rodents will be the most likely reasons you find a copperhead in your yard unless it is just transiting through.
Here are some tips to get rid of a snake in your yard:
Tip 1: If you have a rodent issue or think you may have a rodent issue, set traps in your yard to try to take away the snake's food source.
Tip 2: If you have cicada bugs in your yard, copperheads love to feast on them. So figure out a way to reduce or eliminate the cicada bug problem. Insecticides are a good way to reduce your insect problem if you aren't against using chemicals in your yard.
Tip 3: Try a product like Snake Away or Snake Out. I've never used these products before but they have high ratings.
What other snakes look like a copperhead?
If you see a snake in the wild, one way to tell if the snake is a copperhead is to observe the snake's hourglass bands. A copperhead's hourglass-shaped bands will touch the ground.
Copperheads can also be distinguished from similar snakes by looking at their eyes and head. Copperheads have eyes similar to cat eyes and a diamond-shaped head that is unlike most of the similarly mistaken snakes.
Here are snakes that are commonly mistaken as copperhead snakes.
Black Racer Snake – Only some of the black racer snakes look like a copperhead when they are juvenile. Juvenile black racer snakes can have a lighter-brown body. Full-grown racer snakes do not resemble copperheads because they are black in color.
Corn Snake – Corn snakes do not have cat-like eyes and have more of a reddish-brown, rusty-looking body while the copperhead's body is of a lighter brown, copper-like appearance. The bands on a corn snake may appear to be an hourglass shape, but closer observation shows they really aren't and the bands don't extend to the ground like that of the copperhead.
Eastern Hognose Snake – These snakes vary widely in their appearance. These snakes will have a variety of body colors and patterns to the point that you may not even be able to determine that you are looking at the same species of snakes when you are looking at two eastern hognose snakes side by side. Hognose snakes that resemble a copperhead can be ruled out as being one by looking at their eyes. Hognose snake eyes appear black while copperhead eyes appear yellow.
Eastern Rat Snake – Like the black racer snake, only some of the eastern rat snakes resemble copperheads, mainly when the rat snakes are juveniles. To tell the difference, compare the snake bands. Rat snakes will have bands that are of a spot pattern, which is nothing like the hourglass pattern of a copperhead.
Mole Kingsnake – These snakes also vary widely in appearance, but some of them will have lighter, copper-like colors. An easy way to distinguish this snake from copperheads is to observe its bands. Kingsnakes have thin back bands that don't resemble the hourglass shape of a copperhead.
Northern Water Snake – While a lot of northern water snakes won't resemble a copperhead, there are some that do. Some water snakes will have a lighter, brown body that can be mistaken as a copperhead's body, but northern water snakes have narrower bands than copperhead snakes. A northern water snake also has a smoother head, unlike the copperhead's diamond-shaped head.
Final Thoughts
Now that you've learned what a copperhead looks like, where it lives in the wild, and what to watch out for when being outside and around a potential copperhead hiding spot, I hope you will be able to easily identify a snake now that you have more information about the copperhead.
While a copperhead bite is rarely fatal, I don't think anyone wants to be bitten by a venomous snake. So, just be careful outside when you are doing yard work or just playing with the kids or pets.
As mentioned above, there are products you can buy to try and rid your yard of snakes, even solar products that keep snakes away.
I've never used any of these products before, but they have tons of positive ratings on Amazon and other sites.
Have an itch to read more, check out more of my articles here.